The Golden Rules Of Concealer
Image Credit: MarieClaire.com
You've been Applying Your Concealer Wrong Being a small portion of one's beauty regime, there is a lot to know about concealers. A tiny yet game-changer product. If applied properly, your complexion can go from mediocre to porcelain smooth in seconds. We've broken down the golden rules and got you the essential tips about using and choosing the right product for that baby smooth blemish-free complexion.
PREPPING One of the most important yet usually neglected step. When you skin feels great, you generally don't need much products. To achieve smooth coverage, gently exfoliate to remove any dry, dead or flaky skin. Follow with a serum layered under a suitable face cream to moisturize. Gently massage to get your blood circulation going. You will realise that your face will have a little healthy glow after this process. Finish up with an oil-free primer and your skin is ready for your foundation and/or concealer. Additional tip, for optimal results, wait a minute or two after each step so that your skin takes in everything it needs and for the active ingredients time to set in.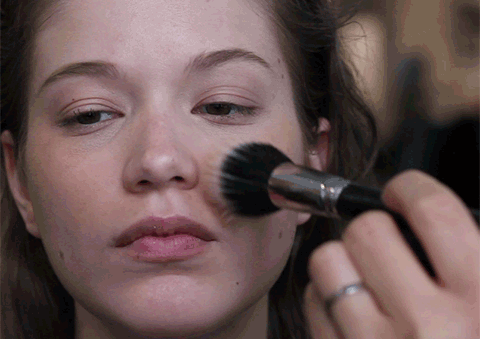 Image Credit: Teen.com
FOUNDATION & BLENDING As its name implies, concealers are used to cover small areas of the face that are not the same tone as the rest of the skin, therefore it has to be blended properly. We recommend using a small amount of foundation first to even out your skin tone - a very thin layer is all that is needed. Upon which, apply your concealer only where needed. Applying foundation first ensures that you don't over apply your concealer. Most often, people like to apply concealers with their fingers or applicators. But for the best results, dab on the specific spot with a fluffy blue. This will have a "blur" effect, masking any signs of problems. However, always be mindful that concealers can be quite thick so less is more and you have to ensure that you blend! One tip for creamier concealers with a thicker consistency, warm it up by blending it on the back of your hand then applying it on your face.
COVERING DARK CIRCLES Each of us are unique and battle with different types of dark circles. If you have blue hues under your eyes, try a peach-toned concealer (NARS GINGER for darker skin tones, honey for lighter skin tones). For purple hues, use a yellow-toned concealer (YSL Touche Exalt in 2.5 Luminous Vanilla) and a green-toned concealer for redness under your eye. Avoid pulling or rubbing your under-eye as it is a very delicate area. Either use a flat concealer brush or the tip of your ring finger, the weakest finger, to lightly tip around the edges. Finish with a thin layer of foundation one shade brighter than your skin to illuminate the area. Always start in the center of the face and blend outwards, this will ensure a more neutral look without any harsh lines. You can consider using your fingers to blend out any edges that are harder to reach for a seamless finish.
It's important to apply your make-up in the correct order. Using a primer first will even out the skin, reduce the appearance of pores, illuminate and reduce redness. This may even address some of the reasons why you're using foundation and concealer so you could actually end up using less of them. Apply foundation first followed by concealer on specific spots without disrupting the foundation beneath.
#concealer #bliv #lamer #nars #sulwhasoo #bobbibrown #lancome #ysl #darkeyecircle